How would you like to have an advanced website like this for yourself? Make yourself known to the world with your own high quality travel website.
(Click above link to see my African Safari Photos website.)
My African Safari Photos site was created specifically to show my own and other safari goers Safari photos. It's still a work in progress as I have at least fifty more of my own photos to add and lots more from several other people that have gone on an African safari. You can have a custom travel website too.
From: Charles Harmon
Sunday Mar 30, 2014
I can make you a travel website similar to my African Safari Photos site or Travellistics site or using another design from the 50 or more templates I have.
This is an advanced type of website that has features that you'll find on sites costing much more than what I am going to charge to create a site for you. Some features, like the Content Management System (CMS) usually only appear on sites that are custom made and at a cost up into the thousands. You could pay this too if you weren't up on the latest website technology.
That particular site (African Safari Photos), has the following features and yours will have these too:
WordPress site and templates
Web 2.0 site *
CMS for easy maintenance
No programming knowledge or programming required
Add images easily
Add/Edit text content easily
No software program required to upload images/text
Search feature
Site is also a Blog (visitors can add comments, set on/off)
Website is SEO (Search Engine Optimized)
Spam protection included for login, contact form, comments
Automatically creates links to blog posts and new pages
Site includes Google approved sitemap
Contact shows no email address and emails you the contact info
Site is easy to maintain and update with new content
For those of you that have a website, know something about programming, websites, uploading sites to the hosting service, uploading data to websites, all about WordPress, etc., well you can spend hours doing all this yourself. You'll save some money, but at the cost of potentially a lot of labor and headaches.
However, if you value your time maybe you have better things to do than fiddle around setting up a website like you want. At the low amount I am charging I am sure your time is much more valuable than that. More over if you want to have a business website you can expect to lay out much more money as is almost always the case for business websites.
Before I get to the price here are a few reasons you might want or need a website (even if you have one now).
A website acts like a business card, but is much more creative
You want a website that is easy to maintain
You want to showcase your hobby creations, photos, etc.
You want to move into the 21st century with a Web 2.0 site
You want to keep up with the Joneses (they have a website)
You want to show your kids (if you have any) you have your own site
You want to make a few extra bucks from your site
You want to learn something about websites/the Internet
You want to be first in your office to have their own website
Unlike some I won't hide the price. For this Limited Special Offer for Travellistics.com or Niche Assist visitors only the price for all mentioned above for this site will be $595, including the domain name.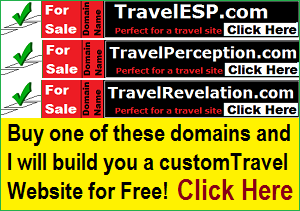 Travelesp.com
TravelPerception.com
TravelRevelation.com
That's unbelievably low considering I will be doing all the work. Plus you will be getting a prime travel domain name. Such names are very difficult to come across without paying an arm and a leg …if you can even find an easy to remember or pronounce travel domain name. Many cost well into the thousands, or more, just for the domain name alone.
Want to know what a few others close to me paid, and that didn't include the domain name?
My brother paid $3500 for a site that was not as flexible and required a programmer to maintain (at huge extra expense).
I was able to get a second site built for him for 1/5th of that, but it required expensive programmer changes to add/update the site. The programmer lived in a poor country so I didn't have to pay the going rate here (in the U.S.)
My sister also paid big bucks ($2000+ ) for one of her sites and was never satisfied.
I paid almost $900 for a site I had built for Kay (SafariKay.com> and that was a low cost because I used someone from another country to build it.
I paid about $850 for an Internet Marketing site that was also built by a person from another country where costs are much less than here.
I even paid several times what I am charging for this special offer for my own sites, some of which I am not using because they are too difficult to maintain.
Some sites of mine I spent lots of time creating by hand and coding in HTML. What a job! Just a few hours of my time (I am a computer/website programmer) is easily worth more than what I am charging for this special offer.
My son created a site a few months ago, also a WordPress site, and charged about $1800. It took a little more effort because it was an eCommerce site.
I could easily charge the minimum as recommended to students taking computer and website classes in colleges of $1000, and that would be a fair price since I am doing all the labor, plus in this special instance you also get a prime domain name. But that may be a bit too much for some for a website.
I considered $950, but that would eliminate some of those who would really like one of these advanced sites but just cannot afford that much.
The price I finally settled on was $595. That's more than a fair price for a complete site plus the labor involved in getting it all together, plus a prime .com travel domain name.
What exactly do you get?
A prime domain name, one of the three mentioned – TravelESP.com or TravelPerception.com or TravelRevelation.com
An easy to use and maintain website with features mentioned above
Site will use a custom professional theme (you choose from a selection)
I will create your site on your domain name
Sites will have a home page, an About page, a Contact page, Legal page, a Sitemap or Archive page, Blog page and 7 content pages
AdSense – If you want Google AdSense ads on your site ask me about this
I will add social buttons (Twitter, FaceBook, Google+) to your site
You will be able to add new pages to your site and make blog posts
I will set up your site to automatically notify other blogs whenever you post something new to your site (this will be a big help in getting you more traffic to your site)
I will check out your site to make sure everything works ok
I will host your site the first 4 months FREE
A special reduced price if you want me to add additional features or work on your site
What are you waiting for? Sign up now to be sure to take advantage of this special limited offer. It may not be offered again, and certainly not at this low price which also includes the domain name.
Because of the many hours of work that I have to put into each website and the limited amount of time I have available, I am not going to include a PayPal button here. I will only be able to handle 3 sites for these three domain names. So I will only be able to accommodate the first three people seriously interested in this special offer. Note that only one person can have a particular domain name, so if the domain name you want is already taken – well then you are out of luck, unless you want one of the other names, if still available.
I am requesting anyone interested in this offer to send me an email stating so and which domain name they would like. First come, first served. I have several dozen WordPress (WP) sites I have put up and you can see how a few of my sites look to give you a better idea of what's possible. This site here, Niche Assist, is also WordPress site.
Here is another one of my WordPress sites.
Here is another WordPress site in the food niche.
Here is my personal blog, also a WP site.
Here is my Ayurveda Health Tips site, also a WordPress site.
Here is a WP African Safari site for the adventure lover.
If you want an easy to use Web 2.0 website created and all set up for you I urge you to contact me immediately before all three Domain Names are taken.
Basic Travel Website – $595
Including above plus:
(Optional Free) I submit your site to 100+ link directories
Optional – A different custom theme $50-$75 extra ( if you want a theme I don't have)
Optional – Special (customer only) website maintenance/updating on our hosting plan – $50/mo.
---
These three domains are also up for sale at their regular price without the website, and may not be available if someone has already bought the domain name before you.
---
This special offer may be removed at any time.
Contact me from the contact form of the website this link goes to if you are interested in this travel website offer with one of the three domain names indicated. Be sure to mention the domain name you are interested in and Travel Website Offer.
Sincerely,
Charles Harmon
* Web 2.0